About Us
Overview
Keio University libraries, also called Media Centers, are located on each campus of the University. Besides numerous library materials and digital contents, we also provide various services online, both from on and off campus.
The Head Office functions as a hub for the library network among the campuses, carrying out acquisition and cataloging for all Media Centers. Each Media Center is operated individually. However, each interacts with other Media Centers to support academic and educational activities, as well as medical practices of Keio University.
We established an agreement with Waseda University libraries in 1986. Since then, we have formed a partnership, eventually leading to the joint development of current library system.
For details on each campus, please refer to the following web page: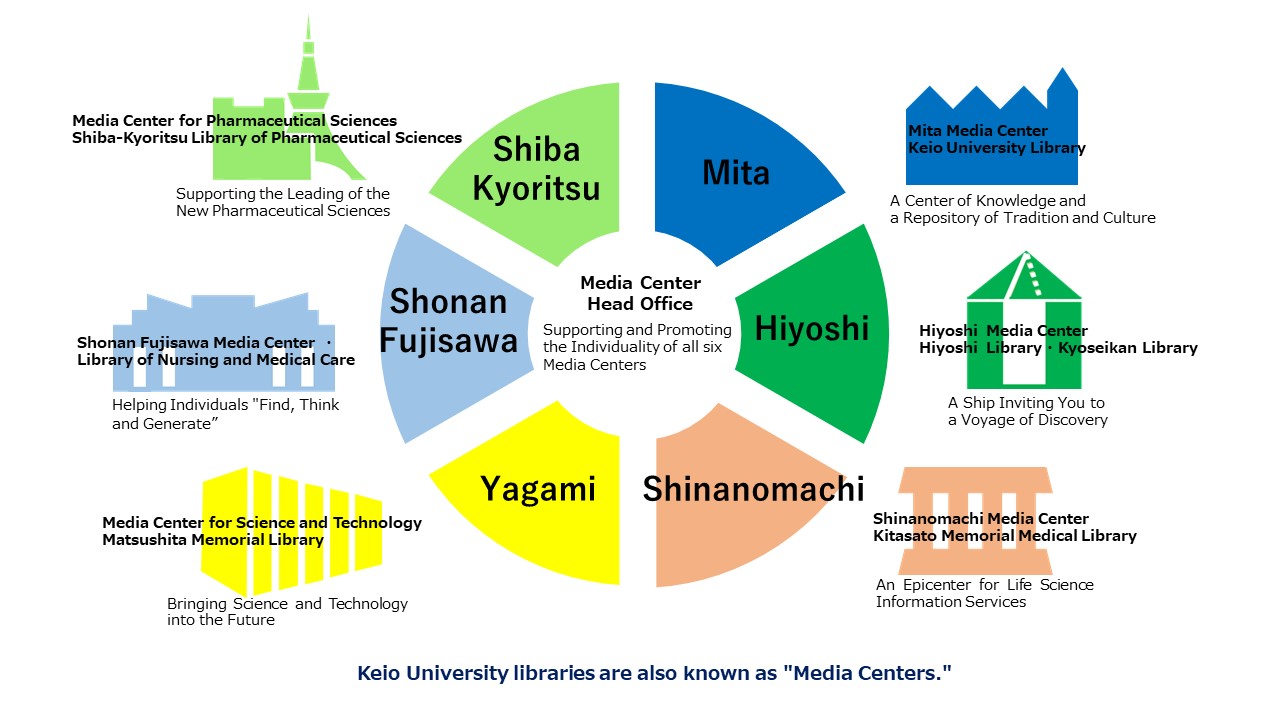 Mita Media Center
Mita Media Center consists of three libraries: the New Building, the Old Building and the South Building Library. As a library specializing in the humanities and social sciences, we collect and provide books, journals, and electronic resources for a wide range of research fields. We also support the research, education and learning activities of the faculty and students by providing library orientation programs. Since our establishment more than a century ago, we have collected over 3 million volumes of library materials including rare books and private/special collections.
We hold exhibitions of the library collections both on and off campus. We also continue to digitize our collections and make them public via website, thereby making an intellectual contribution to the society. We are now advancing to the next stage by cooperating with Keio Museum Commons, also known as KeMCo, and Fukuzawa Yukichi Memorial Keio History Museum, established in 2021.
Hiyoshi Media Center
The collections of Hiyoshi Library include not only academic books, but also more general works such as travel guidebooks, practical books, best-selling literary works, etc. The collections mainly target the first- and second-year students on Hiyoshi Campus.
There are various facilities where you can study and read. For example, the carrel seats for quiet study and reading, group study rooms for group discussion and assignments, and a lounge for relaxing. We also support your study and research in conjunction with course lectures, holding library orientations for better information literacy. Our study advisors and student staff members also take a major role in assisting your library research and needs.
The items on the fourth floor of the library, and the Raiosha Reference Library collections are mainly for researchers. We also have another library called Kyoseikan Library located on the south side of the campus across the gingko-tree-lined street. It supports the study and research of the faculty members and students at the three graduate schools on Hiyoshi Campus.
Shinanomachi Media Center
We provide academic information on medicine to our patrons, which include students, faculty members and alumni of the School of Medicine as well as the School of Nursing and Medical Care. As one of the leading academic libraries specializing in medicine and related fields, we hold many library resources including online editions in various fields, accessible to our patrons. Our roles include providing orientations and programs for better information literacy skills and conducting academic achievement research.
Since our establishment, we have always been open even on weekends, opening the door to researchers and medical practitioners outside Keio University. We cooperate in the literature search to create "medical practice guidelines," a project of the Japan Medical Library Association (JMLA). As a function of the hospital library, we operate a "health information plaza" inside the university hospital and a website called "KOMPAS." Both provide medical and health information to patients and medical personnel.
Media Center for Science and Technology
The Main Library was established in 1971 by Konosuke Matsushita, the founder of Matsushita Electric Industrial Co., Ltd., now Panasonic Corporation. Therefor the library is called Matsushita Memorial Library. The name is still used as another name for Media Center for Science and Technology.
In 2000, the library was expanded onto a floor of Sosokan, the landmark building on campus. The construction brought dramatic changes: the glass-walled architecture provides natural lighting, making the space and atmosphere very open. The new study room is open until midnight.
The "Main Library" is a traditional, quiet space with stacks filled with library materials specializing in science and technology. It is also equipped with spacious individual seats. At the same time "Sosokan" floor is much more casual. This combination provides Yagami Campus students with a comfortable environment for studying.
Many students participate our seminars and events in the library. Our graduate student staff offer you advice on your research and study. The library functions as an intellectual meetup place where you can discover something new. The library also welcomes scientists from outside the university carrying out the mission of a specialized academic library.
Shonan Fujisawa Media Center / Library of Nursing and Medical Care
We support the "problem-finding and problem-solving" education carried out at Shonan Fujisawa Campus. The education focuses on interdisciplinary research from many aspects, including access, acquisition, creation and dissemination of information. We provide not only library resources but also facilities that help your creative activity and experience. The facilities include "Fab Space" for 3D printers and other manufacturing equipment, studios for recording audio and video, editing equipment and other facilities that can be used for classes and various content production. In addition, we develop regional cooperation with Fujisawa City by allowing local citizens to access our library and providing an inter-library loan service with Fujisawa City Library.
Library of Nursing and Medical Care is also on campus. The library supports the research, education, and learning activities of the students and faculty members of the School of Nursing and Medical Care and the Graduate School of Health Management. We actively collect materials focusing on nursing, medical care and health sciences, as well as illness narrative books and practical video materials.
Media Center for Pharmaceutical Sciences
Keio University and Kyoritsu Pharmaceutical University merged in 2008, and this was the beginning of Media Center for Pharmaceutical Sciences. The library specializes in pharmacy and other life sciences. Although a small library, with a collection of approximately 50,000 volumes and 150 seats, we provide a wide range of services in cooperation with other Keio University libraries. In addition to the library resources necessary for the university curriculum, including textbooks for course lectures and preparation books for Licensing Exams for Pharmacist, we also provide light reading collections, such as magazines and travel guidebooks in the Browsing Area.
The School of Pharmaceutical Sciences and the Graduate School of Pharmaceutical Sciences train medical professionals in various fields, including not only pharmacists, but also other medical practitioners who make use of their pharmacist license, scientists who exercise leadership over companies and government, and chemists involved in drug discovery and life sciences. As a library affiliated with the School, we comply with our patrons' requests and needs for information.
Media Center Head Office
The Head Office coordinates and supports the operation of the Media Centers, addressing the individual concerns of each library. The main functions are as follows:
1. Collective acquisition and cataloging of library materials purchased by all Media Centers
2. Subscription management of online resources
3. Management and operation of library system
4. Management and operation of the KeiO Associated Repository of Academic resources ( KOARA ), and the Digital Collections
5. Operation of Yamanaka Book Depository, a remote storage located in Yamanaka Prefecture
6. Liaison and coordination with libraries and related organizations either in Japan or abroad
Timeline of History
1858 Yukichi Fukuzawa established a private school for Dutch studies in Tsukiji Teppozu district.
1871 "Gepparo", or moon viewing room, located on the estate of the daimyo Shimabara in today's Mita district, was used as a library.
1887 Shojaku-kwan (library) opend inside the Renga-kodo auditorium building. [Mita]
1912 Keio University Library, hereinafter referred to as Old Library, opened to commemorate 50th anniversary of university foundation. [Mita]
1935 University preparatory Course Library opened. [Hiyoshi]
1937 Kitasato Memorial Medical Library was donated to Keio University. [Shinanomachi]
1944 Ginjiro Fujiwawa donated Fujiwara Institute of Technology to Keio University. [Hiyoshi]
The Library of the Faculty of Engineering opened inside a university building; it was destroyed during WWII. [Hiyoshi]
Aiichiro Fujiyama donated Fujiyama Industrial Library at Shiba Shirokane to Keio University.
Kitasato Memorial Medical Library was donated to Keio University. [Shinanomachi]
1945 Most of the Old Library was lost to firebombing during WWII.
1949 The ceremony for the completion of the renovation of the Old Library was held.
1951 The US occupying forces selected Keio to open Japan's first Library School, later it became one of the majors offered by the Faculty of Letters.[Mita]
1957 Fujiyama Industrial Library closed.
1958 Fujiyama Memorial Library opened; today the building is known as Fujiyama Memorial Hall. [Hiyoshi]
1967 The first issue of the library bulletin Hakkakuto was published and continues to the present as MediaNet.
1968 The Gothic-style architecture of the Old Library was designated a National Important Cultural Property. [Mita]
1970 Integrated on-campus libraries into the Library and Information Centers
Each library's organization name was renamed "Information Center" following the name of the campus or discipline, e.g. Mita Information Center.
1971 Matsushita Memorial Library was established with financial support from Konosuke Matsushita. [Yagami]
1974 The stained glass of the Old Library was restored.
1982 The New Building of Keio University Library was opened. [Mita]
1985 Hiyoshi Library opened to commemorate the 125th anniversary of Keio University. [Hiyoshi]
The library circulation system CIRSYS was launched.
The first Keio Library Rare Book Exhibition was held.
1986 A library partnership agreement was concluded between Keio University and Waseda University.
1988 The Library of Keio Junior College of Nursing was established. [Shinanomachi]
1990 At the same time as the foundation of Shonan Fujisawa Campus, SFC, Shonan Fujisawa Media Center was established and started providing library services at ∑ Building.
The Online Public Access Catalog, OPAC, was launched at SFC.
1991 Shonan Fujisawa Media Center was relocated to Μ Building.
1992 KOSMOS, the first integrated library system for Keio University, was launched.
1993 "The Library and Information Center" and "Keio University Computer Center" merged and formed "Media Net."
The organization name of libraries on four campuses were renamed Media Centers following the name of the campus or discipline, e.g. Mita Media Center.
Shonan Fujisawa Media Center posted its website on WWW. [SFC]
1994 Yamanaka Book Depository was established in Yamanashi Prefecture as a remote storage of all campus libraries.
1999 KOSMOS II, the second integrated library system, was launched.
Hakuraku Satellite Library was established in Yokohama City as a remote storage.
Electronic journal packages Academic Press/IDEAL and PQD were contracted.
2000 The first floor of Media Center for Science and Technology was expanded to Sosokan, the adjacent building. [Yagami]
2001 Library of Nursing and Medical Care opened. [SFC]
2002 Raiosha Reference Library was established. [Hiyoshi]
2003 Keio Junior College of Nursing along with its affiliated library was closed.
2004 Media Net was dismantled, and the library became an independent as Media Centers.
Medical Information and Media Center was renamed Shinanomachi Media Center. [Shinanomachi]
A library partnership agreement was concluded between Keio University and Hitotsubashi University.
2005 The South Building Library was established. [Mita]
2006 KOARA, the institutional repository of Keio University, was released on the Internet.
Keio University's online library resources became accessible from off-campus using keio.jp authentication.
2007 Mita Media Center joined Google Book Project.
The link resolver SFX was introduced.
2008 At the same time as the merger with Kyoritsu College of Pharmacy, Media Center for Pharmaceutical Sciences was established. [Shiba-Kyoritsu]
Kyoseikan Library was established. [Hiyoshi]
2009 Hiyoshi Depository was established. [Hiyoshi]
The Health Information Plaza was established in Keio University Hospital. [Shinanomachi]
2010 KOSMOS III, the third integrated library system, was launched.
2015 Hakuraku Satellite Library was closed.
2016 Yamanaka Book Depository II was established as an additional storage.
2019 The Joint operation of the library system with Waseda University Library started.
KOSMOS IV was launched as the first library platform with a discovery service.