Group Study Room Reservations
Group Study Rooms are available by using "Suwary" reservation system.
There are reservation tables/rooms and non-reservation desks.
Reservation tables(rooms) need taking reservations by using Suwary*(Application for smartphone iOS/Android). Each table/room has the maximum number of seats.

*Suwary is a system developed by PLUS Corporation.
https://kagu.plus.co.jp/suwary/
About Reservation tables or rooms
Map of Group Study Room(the below).
The number of seats:8 *You don't move chairs.


Available time

:

Available time is from 9:00 to closing.

You can use the same table/room once a day (within 90 minutes each time).You will be notified on your smartphone when your reservation time is approaching.

Start time of reservation :

Table: 7 days ago, Room: On the day *From 0 AM

Maps: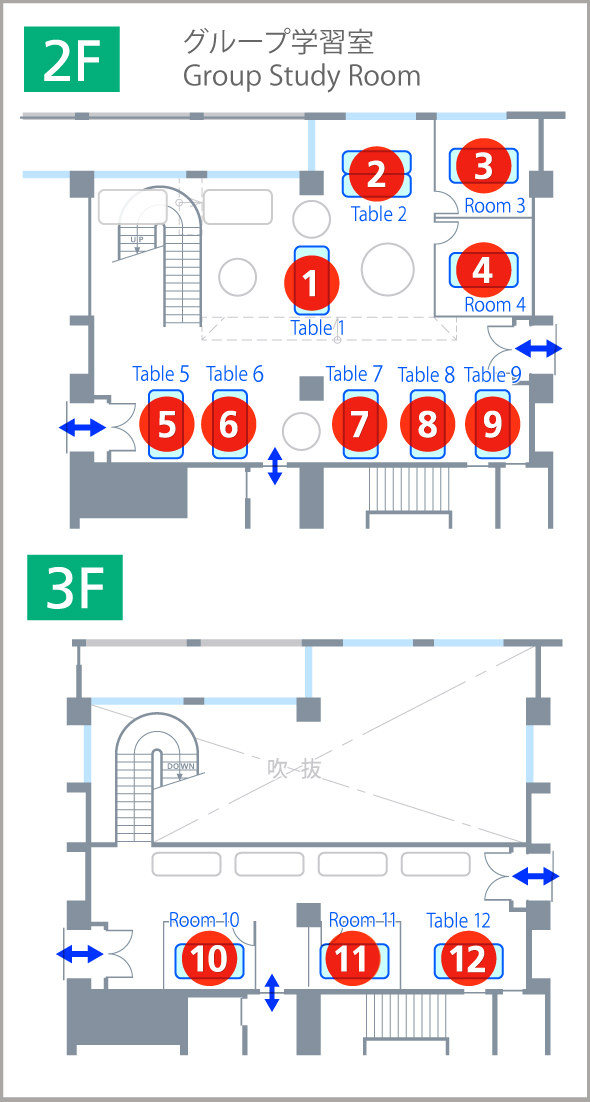 No.
Type
Start Date
The number
of seats
Electric outlets
White
board*
①
Table1
7 days ago
4
〇
×
②
Table2
7 days ago
7
〇
×
③
Room3
On the day
8
〇
〇
④
Room4
On the day
7
〇
〇
⑤
Table5

7 days ago

5
×
×
⑥
Table6

7 days ago

5
×
×
⑦
Table7

7 days ago

5
〇
×
⑧
Room8

On the day

5
〇
〇
⑨
Room9

On the day

6
〇
〇
⑩
Table10

7 days ago

8
〇
〇
⑪
Table11

7 days ago

5
〇
×
⑫
Table12

7 days ago

5
〇
×
⑬
Table13

7 days ago

5
〇
×
⑭
Table14

7 days ago

5
〇
〇
*Whiteboard markers can be borrowed at the Main Counter.
*Do not block the acrylic glass with a white board in the Room for visibility.
*There are 80 seats for reservation, 26 seats for non reservation.
How to reserve and use
The smartphone application "Suwary"(free of charge) is required for Group Study Room reservation.
In addition, Keio ID is required to login in "Suwary".
Install
Android 
URL
:
https://play.google.com/store/apps/details?id=jp.suwary.app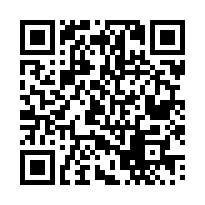 ---
iOS
URL
:
https://apps.apple.com/jp/app/suwary/id1477780620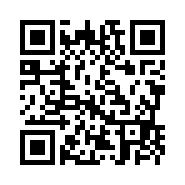 Setting
Click the image below to enlarge it.
Please enter the following code for the Contract code. KEIOUNIV
Check in:
When the reserved time comes, please check in using your smartphone at the reserved table/room.If there is no check-in within 10 minutes after the start time of reservation, it will be canceled automatically. Please be careful.
Notice
Please keep the usage time for reserved table or room.
If you are late for the reservation time and the reservation is automatically canceled, please make a new reservation.
Only the person who made the reservation can check in. If the person making the reservation is absent, please make a new reservation after the previous reservation is automatically canceled.
In the event of an unavoidable situation, we may ask you to be moved another table or room or change the date and time.
If there is luggage left at the table/room that has not been checked in, our staff will remove it and leave it at Main counter.