Floor 2F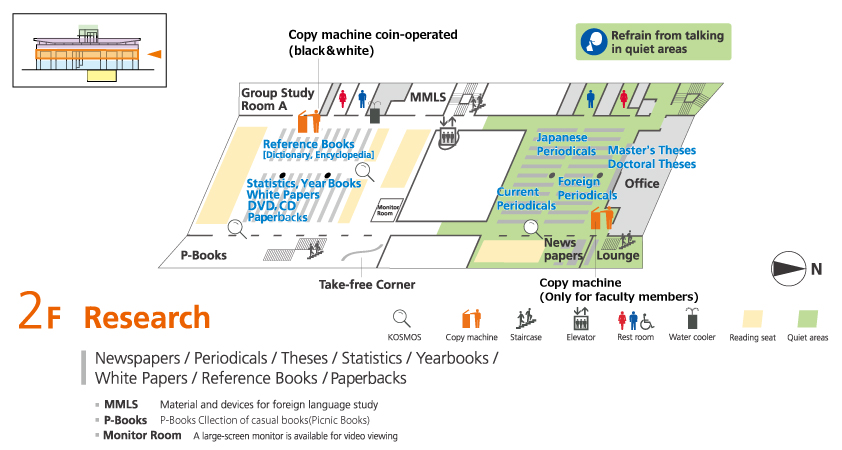 Group Study Rooms
The group study rooms provide spaces for group discussions. They can also be used for individual reading and study. Group Study Room A is on the 2nd floor and Group Study Room B on the 3rd floor. They are open to all Media Center users.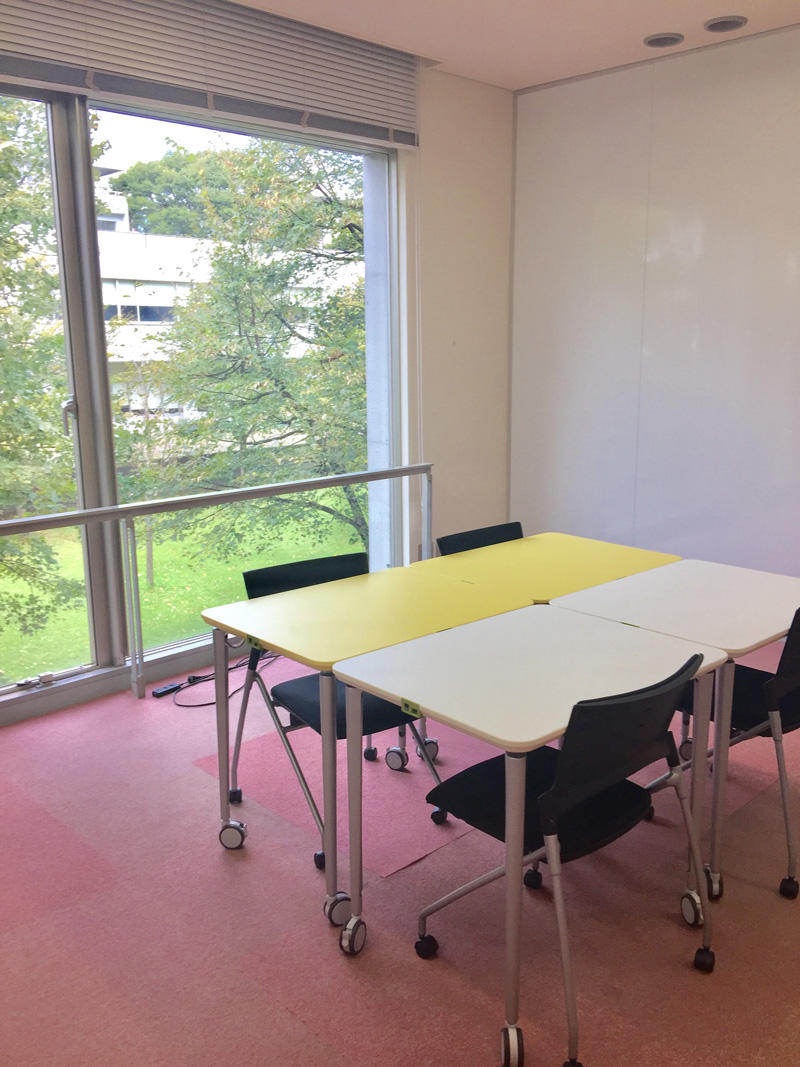 Notes
Loud voices or noises that disturb other users are prohibited.
Food (including snacks) is prohibited throughout the Media Center.
Multimedia MultiLingual Space
SFC's multilingual environment takes shape at the MMLS. The multipurpose room in Media Center is a space for new learning, and a real space for people to interact.
(Malay-Indonesian, Arabic, Spanish, Korean, German, French, Chinese, Italian, Russian, Japanese, English)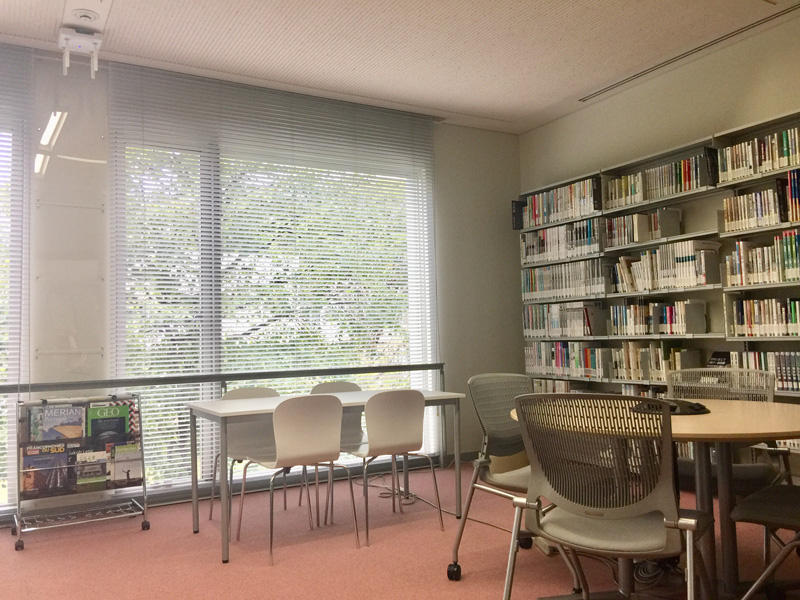 Using the MMLS
Windows PCs (for foreign language learning), large screen monitors, various types of AV decks, viewing of overseas satellite programming.
Programs Available for Viewing
BBCWORLD (U.K.)
Digital Terrestrial Broadcasting
Materials in the Stacks
Foreign language learning materials consisting mainly of AV materials such as DVDs, videos, CDs, books with audio material, and other audio and visual material related to languages
Newspapers, periodicals, dictionaries, and the like
Graded readers for foreign language learning
Foreign language proficiency examination exercise books
Collection development policy: MMLS collection
Notes on Use
There are no restrictions on the use of materials and facility equipment in MMLS, but uses for language learning will take precedence.
Books related to language learning can also be found on the third floor (call numbers in the 800's) and in the P-Books collection on the second floor. Foreign language newspapers and periodicals are available for viewing in the 2F Newspaper & Magazine Corner, and as electronic journals and newspaper databases. Please make use of these resources as well.
The room is sometimes used for displays showing activities of seminars related to foreign language, etc.
When you have a question, feel free to inquire at the Reference Desk.
About MMLS
Three Aspects of MMLS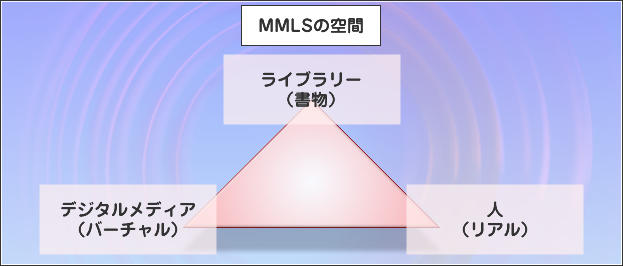 1. A Multilingual World
Library (written material)
Books related to a wide variety of languages gathered in one place create a space for a multilingual experience.
2. New Learning
A place for independent and collaborative learning
An environment for independent and collaborative learning has been created by thinking about new learning spaces.
Integration of IT Educational Materials
A platform has been set up to integrate the abundance of educational materials at SFC and to enable visualization of foreign language learning using SFC IT resources.
3. Interaction with International Students
A place to interact with international students
In addition to holding events to promote interaction with international students from various countries, mini-lectures and such are offered to create a mutually beneficial learning environment for international and Japanese students.
Newspaper & Magazine Corner
This corner carries the morning editions of Japan's major daily newspapers, as well as weekly magazines and other frequently used publications.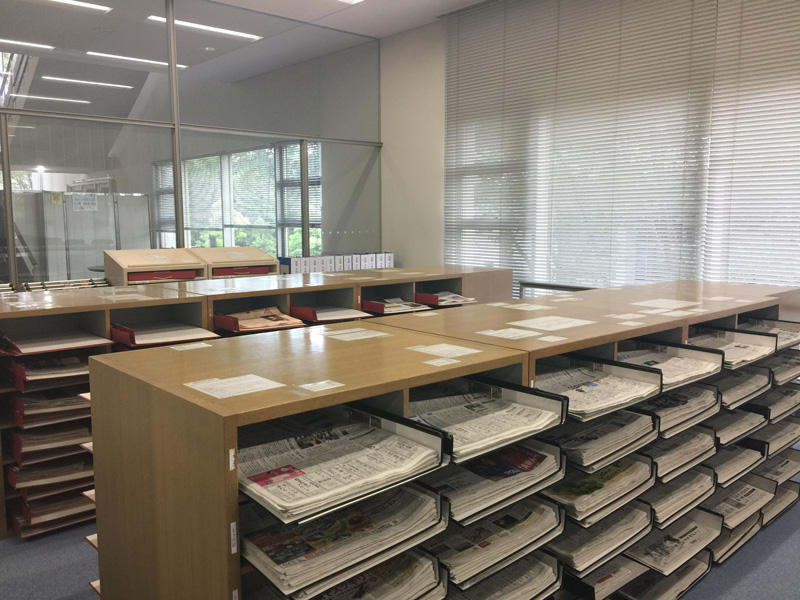 Newspapers

Asahi Shimbun
Mainichi Shimbun
Yomiuri Shimbun
Nihon Keizai Shimbun
Sankei Shimbun
Tokyo Shimbun
Kanagawa Shimbun
Jukusei Shimbun

Evening and previous day editions of the daily newspapers are kept on the adjacent newspaper shelves.
Newspapers / Japanese
Newspapers / Others
Weeklies

Sunday Mainichi
Shukan Bunshun
Shukan Shincho
Shukan Kinyobi

kept for 3 months
Other Publications
kept for 3 months